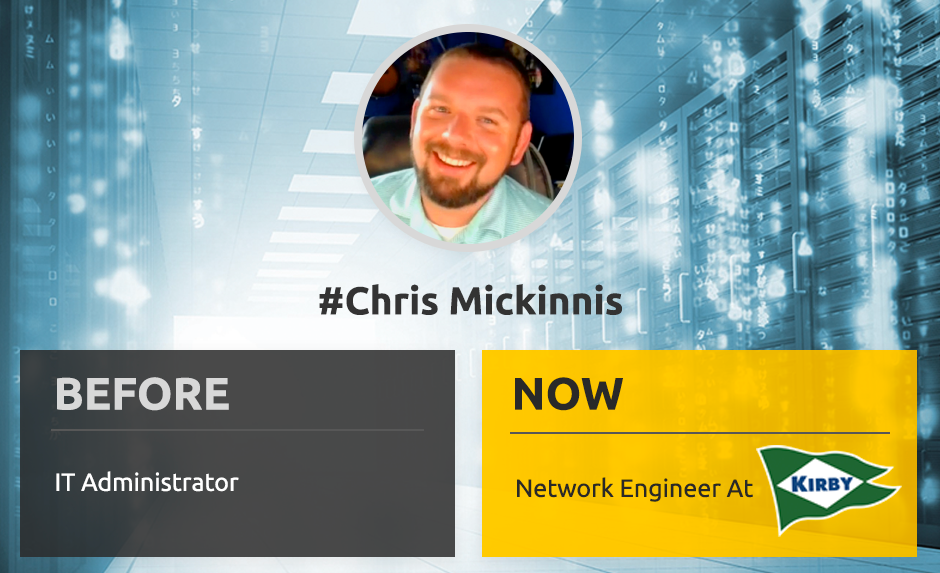 A zoom interview with Zero To Engineer Alumni, Chris Mickinnis
Chris Mickinnis is a family man whose top priority is providing for his loved ones. For Chris, that meant staying in his predictable, safe, yet unrewarding job doing miscellaneous IT work. A "Jack of all trades" position that yielded uncertainties for the future.
What if he was injured? What if he had to find another job? Chris would be hard-pressed to find another sustainable situation that would provide the same security for his family.
Chris had worked in a call center with customer support and had no additional certs or awards. Though he knew that he needed to gain some longevity within his career, he didn't know where to turn or how to take that step.
After over 10 years, he was resigned to that cycle. He had begun to believe he was stuck. He felt frozen in time.
And then a chain of persistent Zero to Engineer outreach emails snagged his attention.
He chose to answer the call of change. After sitting in on one of our seminars, he "pulled out the credit card" And was ready to go. The light at the end of the tunnel, the flag of possibility in the fog. He took hold of the hope and opportunity that NexGenT provides, and he flew to heights he thought he had missed the chance to reach.
When asked about his level of motivation and excitement through the program after his decision to enroll, Chris grinned, "…I could see why they were going over a lot of what they were, and it was a great refresher. I was excited, and that was sustained all through the network plus videos."
His motivation persisted enough for him to branch out into other platforms, but he "keeps coming back to NexGenT's material."
Quick Tip from Chris:
Don't burn yourself out! It can be tempting to stretch yourself to 8-10-hour days with the material, but remember to set a pace for yourself that is sustainable and effective in the long term. That can look different for everyone, as long as it's helping you and not hurting you.
When you change course like Chris did, there's going to be a time of adjustment as there is with any new development in life.
How did you land the job?
Chris met his current manager at Kirby Corp through running cables, and they struck up a conversation around future plans. He was impressed by Chris's motivation and determination with NexGenT, and their conversation put Chris on his radar.
A few months of follow-up later, Chris got the call: There was a spot on the team at Kirby Corp, and they wanted Chris. They loved his enthusiasm for solving problems, and they recognized the strong signal that is sent when someone enrolls in a course like NexGenT.
Related: Exclusive Interview Tips from an Amazon Cybersecurity Solutions Architect
"Back then I was running around all day finding cables and printers. Now, all my work is done on the computer, troubleshooting and making sure everything's running as it should." He's building an extensive database for the entire company, which isn't something they've had before at Kirby Corporation.
He admits, it can still be overwhelming. But Chris is quick to smile and knows that it's worth the challenge.
When he initially explained what he was doing with NexGenT, people were skeptical about the merits. Chris dealt with all the familiar questions that come out when anyone does anything different than the norm: "What does that mean?" "What does that get you?" "What will you be certified in?"
Chris stuck to his plan despite the questioning. He knew that this was the choice he needed to make. He needed to become a Full Stack Network Engineer, and he went at it with full force.
Related: Is college really necessary?
Chris's present reality was once a distant dream. He took the plunge and changed the course of his career, and he's still the family man who can provide. "I can do my work anywhere. Home, the car, and I'm making a comfortable income."
The rise of alternative education is creating empowered and driven workers, and Chris is glad to be one of them.
How does it feel?
"I feel proud to say that I'm a Network Engineer. I get a little grin every time I say it." Chris, on his new title. We love to hear that from our students–see that light in their eyes.
When people think of changing their lives, they often let fear or familiarity hold them in place.
Chris is proof that stability does not have to be sacrificed when changing paths. You can have a fulfilling career and still hold a roof over your family's head.
"I'm very grateful for all the dominos that had to fall into place for this to happen." Chris, on his current status.
It's not always clear where to turn, what decisions to make when it comes to building a career you love and are proud of. But it can be done, and with NexGenT, you can earn that state of pride and renewed enthusiasm for the work you do that Chris has.
You have the power to change your path, and NexGenT can help you get there!
Find Out How To Launch YOUR IT Career