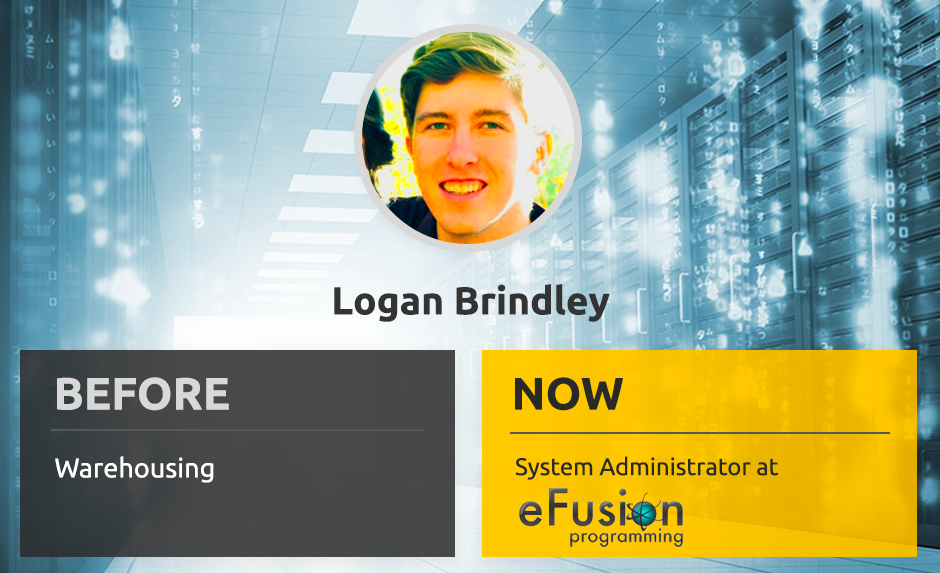 A zoom interview with Zero To Engineer Alumni, Logan Brindley
Logan Brindley was tired of lifting 5-gallon buckets of chains every day and working late nights away from home. Uneven sleeping schedules, physically harmful work: missing the morning moments with family that propel us through the day.
Logan knew it was time for a change. The only question was how and when. He had sustained an on the job injury that accumulated into an apple-sized hematoma on his knee, leaving him out of work for a month. His warehouse employer did not acknowledge his ailment as qualifying for workers' compensation. He was on his own, and that was when he knew for sure that it was time to move on. "That was the point I was like, I'm getting this done, I'm digging in, and I'm getting a new job."
When Logan discovered NexGenT, he knew it was his chance to get away from forklifts, knee injuries, and graveyard shifts. His wife had seen an ad on Facebook and was excited to show him the option.
Related: Why NOW Is The Time To Consider A Career Move Into Cyber Security
"It looked like fun!" Logan, on his initial take on NGT. Enjoyment is an important part of work. If you can find the fun in what you do, it makes all the difference. Logan took to the program like a fish to water.
He didn't wait around for his luck to change: he took action. Logan went full throttle into NGT for his entire month of recovery time. He was ready to break into the world of information technology.
A Quick Tip From Logan
Do the labs in the program! Before you think of taking any of the tests, do the labs. I thought I could skip over them and power through the lessons but soon realized I couldn't. Absolutely necessary.
How did you land the position without prior experience?
Logan was browsing online for available opportunities. Among these, he found an open position with Efusion programming, he updated his entire resume to best match the programming position and applied with high hopes.
He knew he wasn't fully qualified for the programming role but attempted anyway and managed to land an interview. In his interview, Logan mentioned his NexGenT training and the IT background he had been developing. He spoke with confidence on the topics that he had a full understanding of.
To his surprise, the manager instead acknowledged Logan for fitting perfectly into a systems administration role. Unfortunately, that position at the company had been filled only a few days prior.
Logan on how his conversation with the manager went: "He said, 'I wish I had found you before this because I would have hired you [for the administration] role on the spot!'" The representative he spoke with was so impressed with Logan's skill set that he held on to his resume.
He continued to work hard and learn through the NexGenT Zero To Engineer courses and prepare to get his certs and awards.
Three weeks later, Logan got a call. It was Efusion, and the previous hire hadn't worked out. "He said he wanted me to come in and interview for the position." Logan was more than willing to do so.
One engaging interview process later, and they called with the offer. Logan had been making $19 an hour at his warehouse job, and Efusion was discussing keeping that wage for him. However, they kindly offered to bump his starting wage to $21 an hour instead.
Surprised and excited, Logan said he would call back after discussing it with his wife. "What?" she had said, blown away as he explained the offer to her. "Why didn't you say you would take the job on the spot!" It was a happy time in the Brindley house.
With that settled, Logan called back and took the job as Systems Administrator at Efusion programming.
How has this career change shifted your life?
Logan is enjoying taking general phone calls and supporting people with common tech issues. No more demanding physical labor, no more heavy buckets of chains. Logan is confident that he'll move up in his IT career as he learns new programs and expands his skill set within his current company.
"Right now, I'm being paid to learn, which is super nice."
Related: Is College Really Necessary?
This change has also improved his home life, "To have a normal sleep schedule again is a bit of a change." Logan laughs, "I get to see my kids before I leave in the morning! I get to say goodbye to my wife."
If you've been feeling that pressure, that claustrophobic stress of being stuck on a path you don't want to be on: remember, you have the power to choose a deviation.
NexGenT is here for the ones who are looking for a change. The ones who are eager to learn. The ones like Logan, the ones like you.
"This isn't just a job I've been able to find. It's something that I'm looking to turn into a career."
His dedication to crushing the Zero to Engineer course is paying off in the form of stability, hope, and a fulfilling work-life.
"Because of NGT, I've not only been able to find a job I love, but I'm able to chart a course for my life going forward." Logan, on how going through NexGenT supported his success.
Want to learn more? Schedule a call with one of our coaches or use our site chatbox. We'll help you figure out what your best options are!