San Francisco. Middle of the winter. January 10, 1982. The 49ers had made it all the way to the NFC title game. But, they were facing the Dallas Cowboys, perhaps the strongest team in the entire league, as 3-point underdogs at Candlestick Park. Entering the 4th quarter leading 21-17, a red-hot wave of hope warmed up the entire city, making it believe that maybe, the 49ers were going to pull off the upset. But, a sudden turn of events left the them trailing 21 to 27 with only 58 seconds left on the clock and 89 yards between the football and the end zone.
What happened next is considered one of the most remarkable moments in all of the NFL's history. Joe Montana, a quarterback in the early years of his career who came out of Notre Dame a couple of years prior to that winter day, managed to lead the 49ers through one of the most exquisite, clutch, goose bump-giving runs that a football team has even made—ending with a play embedded deeply in San Francisco's memory, known as "The Catch."
Montana threw the football precisely, over three men who were right in his face, to Dwight Clark, one of the 49ers' best receivers—who elegantly grabbed it from the sky and landed on both of his feet, leading to a game-tying touchdown and an intimidating roar full of joy from an entire city. The 49ers scored their extra point attempt and won the game, ending the Cowboy's golden era of dominance in the NFC conference and giving birth to a new one—the 49ers era. Joe Montana went on to win the Super Bowl a total of 4 times, earned the nickname the comeback kid, and entered the Hall of Fame in the year 2000…
Nowadays,  manages a 25 million dollar early-stage startup investment fund called Liquid 2, and has been giving tech reporters something to talk about. One of his most remarkable investments is in an IT training company founded by two Air Force veterans who quit their civilian jobs to flip the IT training industry upside-down.
Here's a picture of Joe Montana and the founders of the NGT Academy, Terry Kim and Jacob Hess: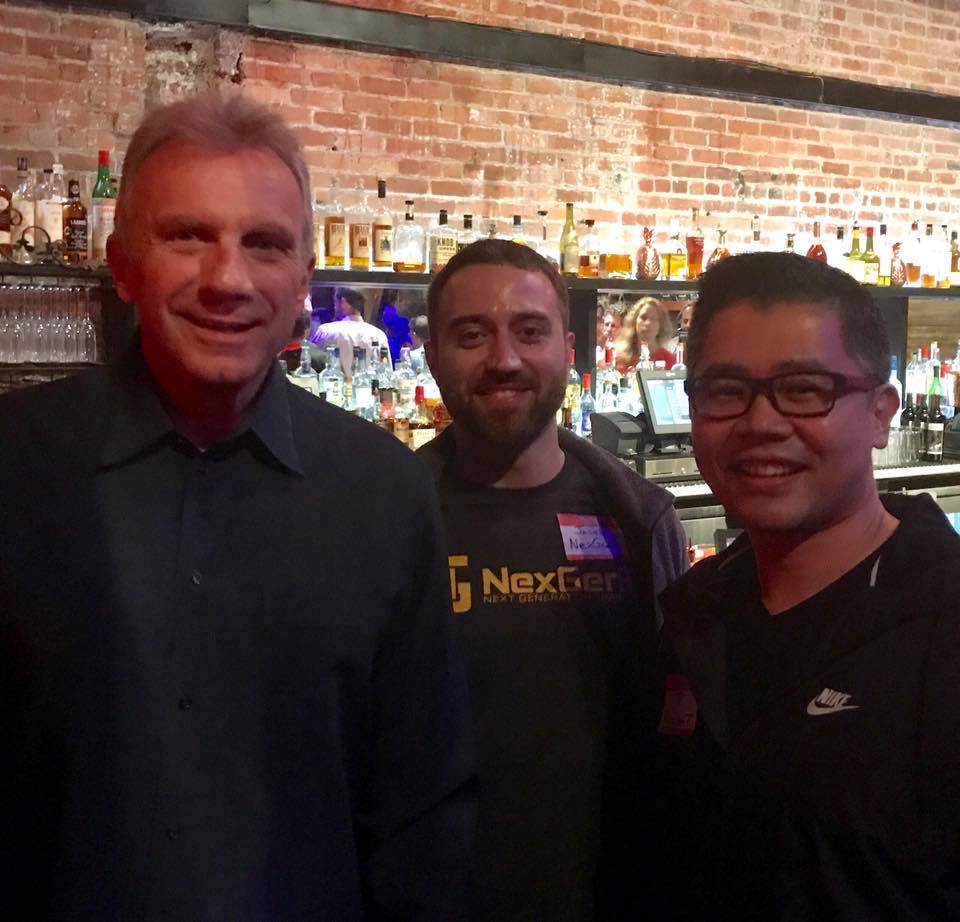 NexGenT's founders, Terry Kim and Jacob Hess graduated over one thousand network engineers while they served as IT instructors at the U.S. Air Force, which made Joe's decision to invest even easier since he is a big supporter of the United States armed forces. Terry and Jacob also have decades of experience working as systems engineers for top tech companies like Cisco, and running their own IT consulting firm.
They realized that there is one big thing missing in IT training: people are paying for training only to end up unprepared and in debt. With this in mind, they hooked Joe on the idea of providing education in such a way that someone could actually be ready to jumpstart a career in IT, which they knew was possible from taking hundreds and hundreds of people from even zero to network engineer in 4 short months during their years serving in the U.S. Air Force.
Joe Montana saw in Terry and Jacob an opportunity to contribute to one big problem that the country currently faces: the IT skills gap. Aware of the fact that there are close to 6 million open jobs in America, a big chunk of which are technical jobs, Joe Montana decided to trust his gut feeling and backup these veterans' venture with what is still, to this date, one of Joe's fund, Liquid2, largest investments.
NexGenT is helping hundreds of people go from even zero experience to becoming network engineers in a matter of months. To put it in perspective, while others are finishing their first year of college, NexGenT students are already adding value to companies and moving up in their careers.
And it doesn't stop there, the company has been flooded with an unprecedented number of student who—motivated by NexGenT's message of standing up against the rising cost of education and the system's inability to prepare people for the "real world"—have been using NexGenT's cornerstone programs, Zero to Engineer and Land Your Dream IT Job, to unlock their potential and jumpstart their IT careers. NexGenT students are able to avoid life-hindering student debt, and are actually trained in such a way that they can start reaping the benefits of their effort immediately after completing NexGenT's training.
Whether NexGenT's training is as remarkable as Joe Montana's 89-yard winning run back in the NFC title game of 1982, I can't tell you. But one thing is certain: NexGenT students know that there are alternatives, that are better than traditional education, and can lead to a secure and stable financial and professional life. They know that they can go from even zero, to becoming network engineers making a significant salary in less than a year; and that if they put in the work and time, it is possible for them to break the 6 figure salary mark in less than 24 months.