Do you want to become a network or systems engineer, and are considering a technical degree?  
There are many options for you to choose from so let me ask you something: how do you know if you're making the right decision?
Everything from reputation to even the distance from your home could come into play when you decide what's best.  
So, what should you look for in a school?
I have no clue whether you want to stay close to home. But, I can help you make the best call…   
You see, if I were going back to college to pursue a technical degree, I'd ask myself the following questions:
What classes will I have to take to earn my degree?

Who are the professors, and what experience do they have?

Will I be job-ready after graduating?

How much would everything cost and what's the expected ROI (return on investment)?
Those might sound basic. But I can assure you that they will—even in the case of prestigious schools—tell you most of what you need to know to make your decision.
I took the time to do some research for you to find key info about technical degrees offered by industry-recognized schools—what I found is fascinating!
But first, here's what I did:
I got on the phone with admissions representatives and even a couple deans from Devry University, WGU and Georgia Tech and asked the questions listed above; I looked at the curriculums of technical degrees, checked out professors' profiles, and calculated the ROI of successfully completing each program.
Here we go…
Devry University
Program: Network and Communications Management
Cost: $65,000 USD
Duration: 4 years
Curriculum: The first two years are jam-packed with non-technical classes including but not limited to nutrition and health, sociology, humanities, public speaking and economics.  
Here's a screenshot: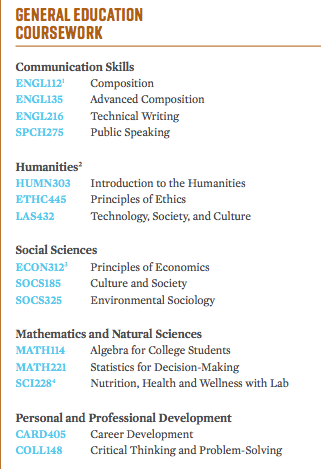 The second two years include business classes, several introductory tech classes and a few basic-level labs. In the entire 4-year curriculum, there's only one class with the word "advanced" in its title, as you can see here: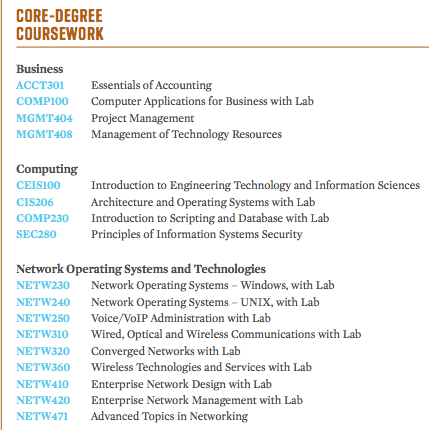 Professors: Would you rather learn from someone who has worked as a systems/solutions engineer for a top tech company or from someone who doesn't know what it's like to make it to the top of the industry?
After speaking with 2 Devry admissions representatives and a dean of students, I wasn't able to get a clear answer regarding which professors teach technical classes.
That said, they gave me the name of the head of the program, Paul Giomi and, according to the admissions counselor, one of Devry University's most renown professors, Abdelaziz Kaina. The admission representatives assured me that they had real world experience… 
Check their LinkedIn profiles (that's what the links are for). I know you're smart so you'll get the point.
ROI: As you can see from the curriculum (here's the link again), Devry says that people who earn the Network and Communications Management degree will be able to land a wide variety of technical jobs.
But, they do say in the fine print, right after they list all the jobs that a graduate would be able to get, that "employment in some occupations may require years of relevant experience." Obviously, unless someone has significant hands-on experience, he or she won't be able to land any of the most attractive jobs on the list.
It's likely that 6 months after earning this life-changing degree, a student will be able to land a helpdesk or specialist job. Depending on where you live, these types of entry-level jobs pay anywhere from $35,000 to $50,000 USD.
With that in mind, assuming a student is able to land a job, the ROI of Devry's degree is not too good. Technically, a person has to work about a year and a half in order to recuperate his/her investment in this degree program (not taking into account taxes and expenses).
Note: Devry University had to agree to a 100 million dollar settlement because the U.S. Department of Education determined that they were deceiving prospective students into believing that 90% of Devry's grads landed jobs in their fields of study.
They were forced to add this note to their homepage, as you can see on this screenshot:

Here's their homepage with the note at the bottom: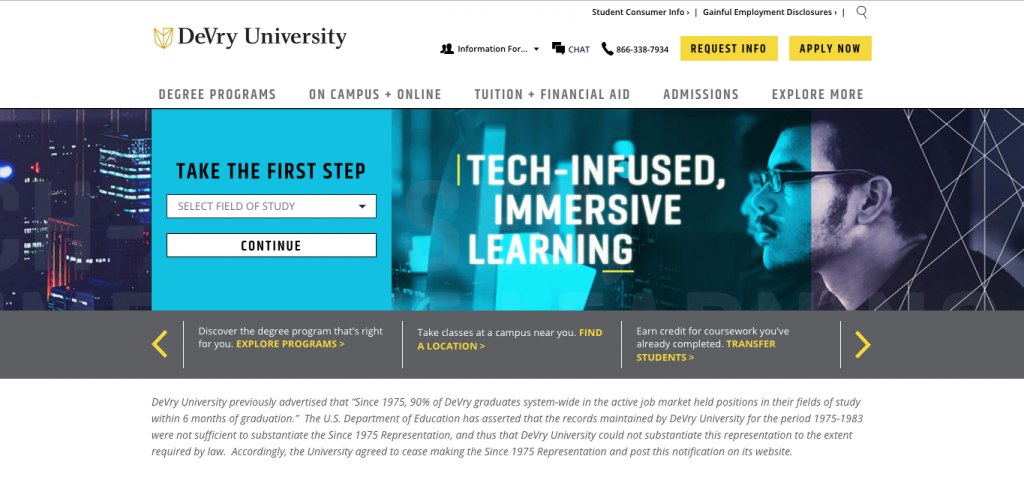 Western Governors University (WGU)
Program: Information Technology—Network Administration
Cost: $3,035 USD per term (according to the curriculum, this program is 9 terms long). Total cost= $27,315 USD.
However, WGU gives you the flexibility to take as many classes per term as you please, so you could finish the program in less time and, as a result, pay less.
Curriculum (go to page 7): Unfortunately since WGU is an accredited university, they also require students to take general education classes including but not limited to geography, writing, algebra, natural science and humanities.
In the technical portion of the curriculum you'll see introductory classes to communications, IT, IT applications, etc. Once you get into the upper-level classes, you'll get a chance to pass assessment tests that could result in earning industry-recognized certifications.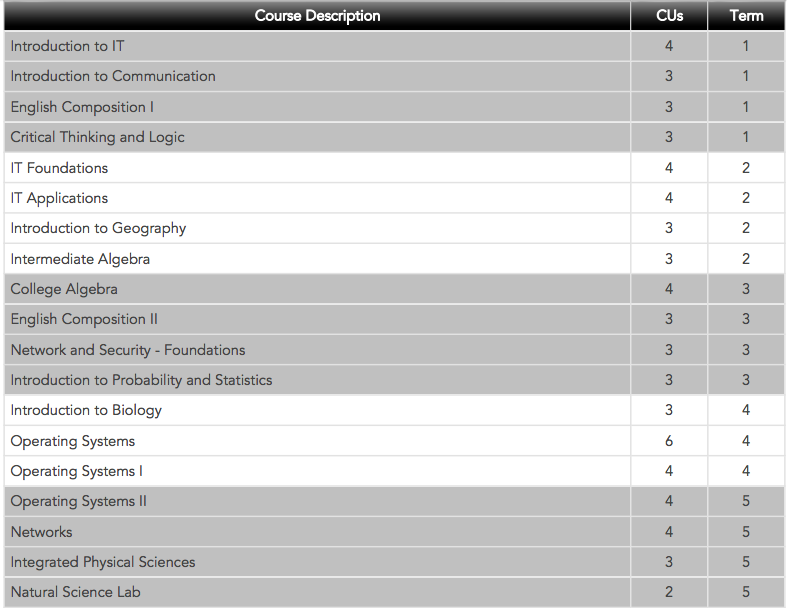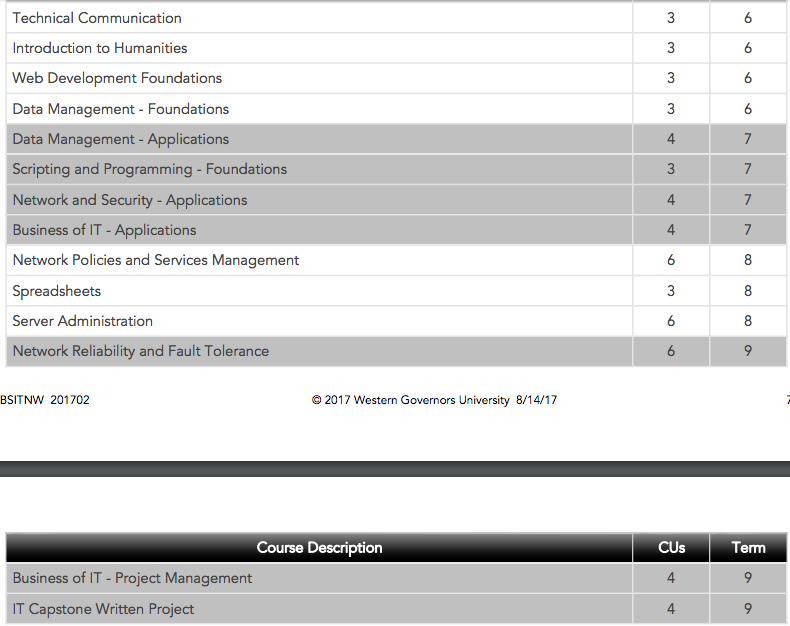 Professors: Instead of professors, WGU has mentors. Students go through the content on their own and they get to meet with mentors for clarification. This is how WGU manages to keep their prices low.
After speaking with an enrollment counselor, I was told that they couldn't provide me with any information on the mentors if I wasn't enrolled in the school yet. However, they did tell me that all of the mentors have a Ph.D… (who cares?).
ROI: WGU requires you to have certain credentials and/or experience to be admitted into the program. Due to this, they are able to advertise that right after students finish their programs, they are able to find jobs. 
A survey posted in WGU's own website admitted that almost a fifth of their students are not able to find jobs in their fields of study 5 years after graduation. This isn't a surprise to many. As you may know, although WGU allows you to earn certs and a degree at the same time, if you have no relevant hands-on experience you will have start at a lower tier job just like everybody else.
Georgia Tech
Program: Computer Engineering
Cost:  In-state: $111,880 USD Out-of-state: $194,264 USD
Curriculum: Half of the program, as you can expect from an accredited university, is made up of general education classes. At Georgia Tech, you will learn about economics, politics, chemistry, english writing and health, among other "job-essential" subjects.
The general education requirements should only take you about 2 years to complete. After that, you'd be able to start taking technical introductory classes that are related to your major. By the time you earn your degree, you would have close to zero hands-on experience and would have spent over $100,000.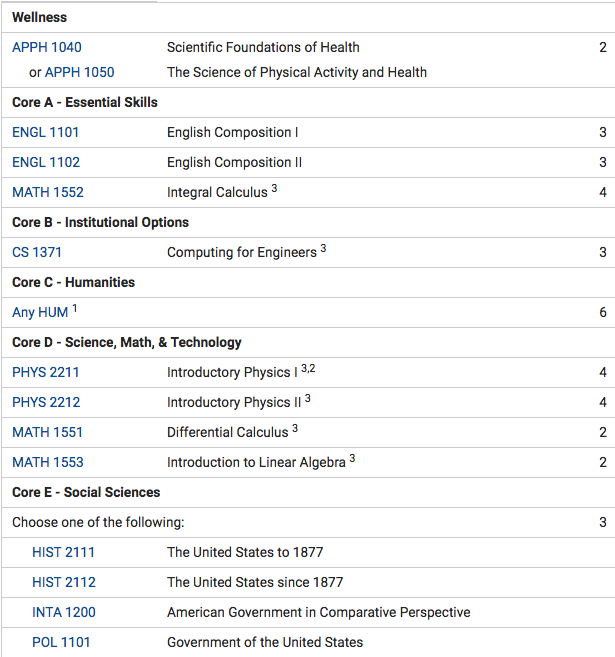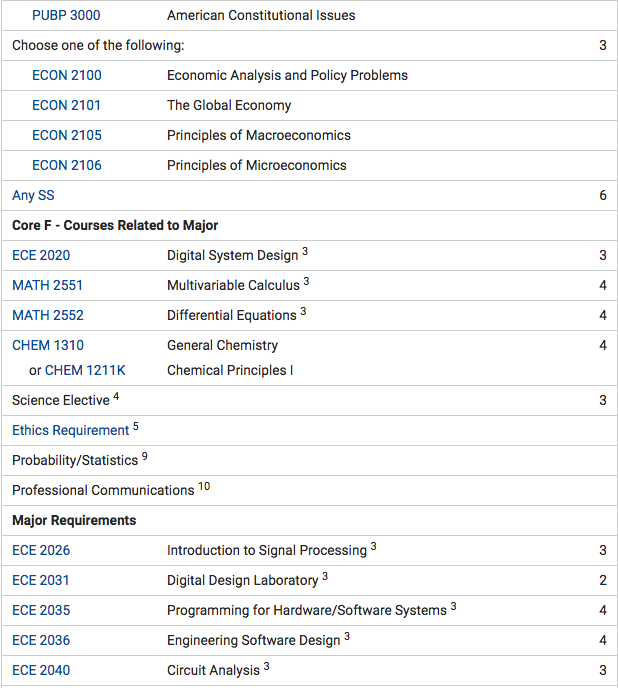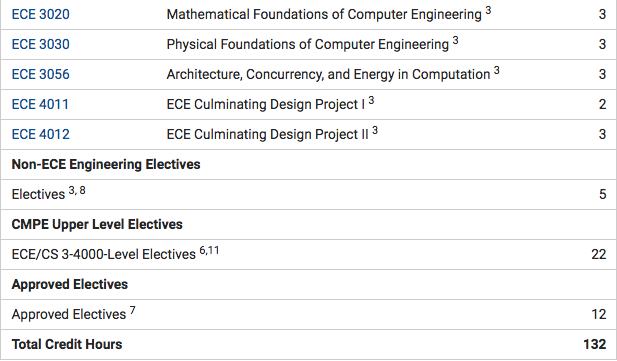 Professors: here's a link to the faculty directory of Georgia Tech's School of Electrical and Computer Engineering. I encourage you to go to that link and look at 3 or 4 professors. You'll see that the vast majority of them are very smart people with many years of experience doing research, but with little to no real world experience. 
ROI: On their main website, Georgia Tech proudly advertises to be one of the top colleges in the nation in terms of ROI (check it out here). However, if you go to that link and read a few lines, you'll see that the return on investment they talk about is calculated over 20 years and it's just about $800,000!
20 years is more than enough for the return not to be related to the degree, of course. But obviously, they're not going to advertise the ROI after 2-3 years because students are likely to be in an entry-level role, and wouldn't be making much. 
So, to put it in perspective, you would invest nearly $200,000 in your degree, and over 20 years, you would make $600,000 in profit (assuming no expenses or taxes). Now, I'm not Warren Buffet, but that sounds like a really bad deal to me.
The Bottom Line
Many people get talked into paying for a college degree because universities are "accredited." For some reason, the word "accredited" makes people think that they will be taught some sort of secret formula or magic tricks that they will be able to use to land jobs.
But sadly, the truth is very different. Accredited only means that the school must teach general education classes which, even though many people still argue they are needed, turn out to be a waste of time.
Take this guy as an example. He went to WGU to get a technical degree and made a few videos to let people know how his experience was. He liked it. But, go to this link and fast forward to around minute 2:20. You'll see that during term one he took 2 technical classes and a humanities class.
He was able to finish the technical classes in a matter of days. But, the humanities class took him 2 and a half months! Imagine how much better he could have gotten if he had invested that time and effort into getting new skills and knowledge!
Some "accredited schools" are better than others. But, all of them must teach a bunch of fluff that won't move you any closer to your goals. Add to that the fact that degrees aren't even required in IT and you have nothing short of a scam. 
Do you think you can't become a network engineer, or at least break into IT in less than a year? I think you can. In fact, I know for a fact that anyone with hustle and motivation can become a network engineer in less than a year or two because I've seen it happen many times.
But colleges and universities make such a big deal of their accreditation that people end up getting tricked into spending their time and money in them just to end up in an entry-level role. Wouldn't you rather take an alternative route, save your money and time and achieve your goals faster?
Apply to Zero to Engineer. You'll learn exactly what you need to know (no general education classes) to break the 6 figure salary mark in less time than what it takes to complete any degree.