Karishma Mendes is NexGenT's new Student Counselor and a Licensed Professional Counselor Associate (supervised by Chari S. Westcott, LPC-S, MA, PLLC) in Houston, Texas. Karishma is thrilled to be a part of NexGenT and seeks to make a positive impact in the lives of students by educating, equipping, and empowering them for success in their academic, vocational, and personal journey. She holds a BA in Psychology and MS in Clinical Mental Health counseling from the University of St. Thomas-Houston (UST)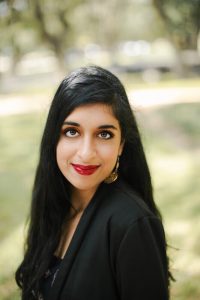 Karishma's speciality is in clinical and career counseling. Previously, she served as a Career Counselor at UST's Career Services and Testing Center and at Rice University-Center for Career Development. During her time at UST and Rice, Karishma counseled over 182 diverse students including domestic, international, veterans, and alumni. Having been a student herself, she enjoys helping students find their ambitions and passions through one-on-one mentoring, counseling, workshop facilitation, and program evaluation. Karishma defines herself as a student success and mental health and wellness advocate. She brings an international perspective, having traveled to India and Dubai. She also speaks English, Hindi, and is moderate in Spanish and Mandarin.
Karishma's counseling mission is to collaborate with her clients and help them create a life they love that will lead to lasting recovery. When Karishma isn't teaching coping skills, a course, or counseling, she is painting, writing music, and dancing to her favorite tunes. Please join the NexGenT Team in welcoming Karishma Mendes!