If you are into IT you've probably heard of dozens of different certifications that are usually required to break into a job, haven't you? Well, let me tell you something: entry-level certifications are not the kind of requirement that you would think they are; they are simply a filter.
When IT companies are looking for candidates to fill entry-level roles, they often contract a recruiting business to help them with the process. They give them an overview of what the ideal candidate looks like and a very specific description of what he/she will be doing in the role. Recruiting businesses use those requirements, which include certifications, to narrow down a large applicants list. This increases their odds of finding someone that meets the description as fast as possible so they can present their client with a small pool of "ideal" candidates and move on to their next client.
The problem with this process is that IT companies and recruiting businesses have different interests. On one hand, you have a business trying to fill a position in a hurry with what they believe, often times without having a clue is an ideal candidate. On the other hand, you have IT companies looking to get the best people to perform a job. Nevertheless, the criteria used by recruiting businesses to determine the best candidates are paper certifications like the CCNA, which are earned by taking a written exam…
You might already be aware of this. But, I'm telling you anyway because you or someone you know may be considering spending a lot of time and effort (and money) racking up certifications thinking that they will be able to develop their skill sets in the best possible way (sure, they might get their foot in the door because some certifications are famous. But it's likely that they won't be prepared to hit the ground running). This, despite the fact that there are countless examples of people that have made it to the top of the IT world without having many fancy certifications. All they've done is rely on foundational knowledge, hands-on experience, and a great deal of motivation.
If this is how things really work, then the question is: how can you break free from the system's inefficiencies and protocols, learn the skills you really need to know (no fluff), proof that you can perform essential tasks in real world equipment and avoid being filtered by "requirements" without wasting money on paper certs? The answer is quite simple. All you need to do is get the best entry/associate-level certification in the world.
This ideal certification should fill up your resume with the skills that companies look for in job candidates! It should complement your resume with the knowledge that gets most hiring managers excited and eager about speaking with you to offer up an interview. But let's wait for a second and assess the situation. The real problem can't be solved just by gaining knowledge; it's about gaining hands-on experience, applicable skills, and the best foundation to get you started in the field of IT. It's about setting you on the right track and making sure you don't get filtered by the obsoleteness of the hiring process, right?
If this is the case, then why not just learn to do all these things on your own? After all, there are several things you can do to gain skills such as building your own PC from scratch, working on your own labs using free software online, or even offering help to your friends and family with their devices. You'll probably have trouble understanding the essentials of networking (but you can read a book for that) and learning how all the components of a network work together, and you would still run the risk of being filtered by the system since you wouldn't have a title. But, you'll gain the most valuable asset in IT (or in any other industry): hands-on experience.
There is a way of acquiring all this knowledge, skills, and experience while also gaining one of those coveted fancy titles that can get you through the first filter. I'm talking about an award that incorporates all of this together using a hybrid model between online and in-person methods. This ideal award doesn't only give you a key foundational knowledge of IT, but it provides you with an understanding of all main areas of networking from routing and switching to cloud to voice over IP.
It's called the Full-Stack Network Associate. It was put together by two former Air Force IT instructors who graduated over 1,000 engineers during their service, many of whom went on to set up and manage live networks all over the world. This basically means that they don't mess around. They are not going to teach you a bunch of fluff that you don't need as most educational institutions do. They are going to get you field-ready, just like if you were about to be deployed to Afghanistan to set up and manage network communications.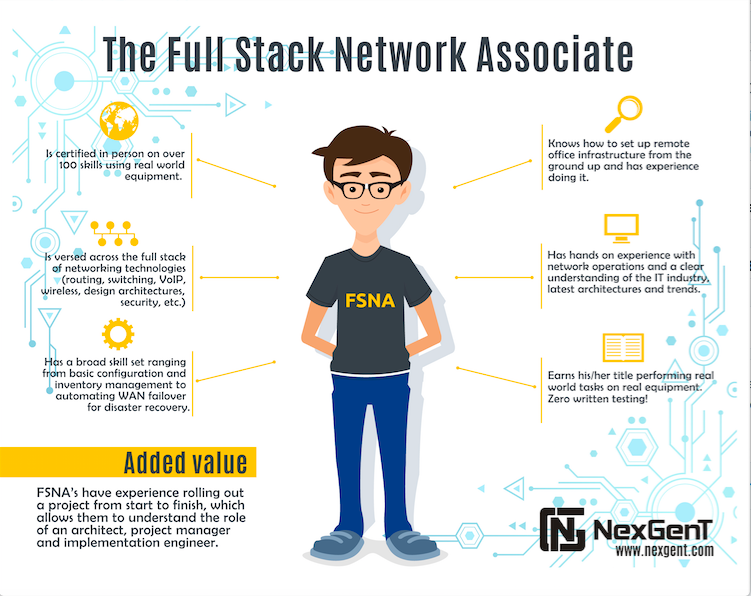 They do this through an online self-paced course called Zero to Engineer (click here to apply now) and a 5-day in-person boot camp where they teach you how to handle real world equipment
. At the end of the boot camp, you get a shot at getting certified in over 100 real-world skills. On top of that, once you earn the Full-Stack Network Associate title, you get a spot in their employer network.
An FSNA understands networking essentials, routing, switching, voice over IP, cloud, automation, wireless, cyber security, data center, and how it all works together. They also have advanced skills such as configuring private WAN to VPN failover for disaster recovery. This is exactly what companies are looking for!
But not only that, the award is structured in such a way that by the time you earn the title you'll have many ways to prove your ability to anyone. Whether it is by showing your full-stack networking project, speaking with authority about the latest trends and about how the IT industry works or performing specific tasks on real equipment.
There's no reason for you or the people you care about, to spend their time, effort, and money trying to pursue their goals the traditional way when there are much better ways to go about it. The IT industry is full of opportunities for people who are willing to learn and are motivated to level up. Now, I must admit there might be many people who fit this description and possess multiple certs and awards as well. So, the real question is: how do you differentiate yourself from the pack? If you want to break the 6 figure salary mark in an IT job you love, click here to apply to the Zero to Engineer program now.
What are you doing to differentiate yourself from everybody else?
Comment below!