NGT LIVE 2020 Is Just Around The Corner
You know when the Marvel Cinematic Universe came together in Endgame for one of the most epic collaborations of all time? Heroes fighting alongside one another for the good of the world, big purple evil dude, portals—it was an event to remember. How would you have liked to be a part of it? Well, we don't have an evil purple guy to defeat, nor is this the end of half of the civilization as we know it (although this COVID thing sometimes feels like it). However we do have an awesome virtual event we are launching this year, NGT LIVE! It is chock-full of insight from tech industry leaders, inspiring career stories, powerful sessions designed to level up our mindset. Avengers? Yeah, they're cool, but with presentations from senior leaders from Amazon, Microsoft, Comcast, the U.S Airforce, our very own Terry Kim, and many more — we assure you you're in good company. 
NexGenT is dedicated to placing 1 million people in tech jobs by 2030 and you get a front-row seat to the epic show, plus the tools and community to support and guide you! Whether you're just getting started in IT or are ready to level up this event was designed for YOU!
Join us on December 10th & 11th for Next Generation Technologies Virtual Conference + Career Forum. Tell your friends, tell your colleagues, your classmates, heck tell your Mom—she may not be interested but I'm sure she'd be proud.
Day 1 Of The Conference
Day 1 is stacked high with virtual stages — one main stage for product showcases and keynotes, and four subject matter tracks. Cybersecurity: This track showcases real-life case studies and frameworks on keeping your company safe, arms IT leaders with the latest strategies, cyber expert insights, and best practices to govern and mitigate cybersecurity risks.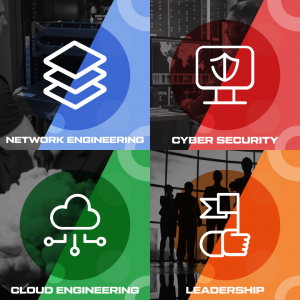 Full Stack Network Engineering: A critical evolution in today's IT landscape to address the entire stack we see in enterprise infrastructures. Tune in to learn how to upskill your team (or yourself) to embody this holistic skill set. It's like earning the infinity gauntlet of NetWork Engineering.  Cloud Engineering: As more enterprises migrate to the cloud, a unique set of opportunities and challenges has arisen. We will explore the latest tools and trends that will help accelerate the enterprise adoption of the cloud. Embody the innovation of Iron Man by honing this skill. Leadership: This track is dedicated to leadership topics and will feature lessons and advice from distinguished thought leaders across the private and public sectors. Become the Captain America of the IT world!
Day 2 – The Career Forum 
Day 2 is an exclusive talk from a special guest, industry professionals, inspiring career stories, and panel discussions, all emceed by Zach Hill — creator of IT Career Questions on YouTube. This will include topics focused on building your career, learning how to train like a champion, opportunities to connect with recruiters and potentially submit a resume (so have that ready if you're attending and looking for opportunities!), and personal development strategies. This day is all about leveling up and becoming a rockstar engineer whether you are moving into a senior role or looking to launch your career!
Ready to skip out on FOMO?
FREE TICKET
Tickets are FREE for the first 2500 registrants This grants access to day 1 of the event, a full day of industry leaders speaking across all four subject matter stages. Attendees can access virtual lounges and interact with other attendees, select speakers, and representatives from some of our conference partners and sponsors, plus the potential to submit a resume!
PREMIUM REGISTRATION
We've also added some sweet deals to the premium ticket.  What's included in Premium?
Access to Day 2 of the event, the Career Forum

$250 credit toward NGT training programs.

50% Discount for NGT LIVE 2021 (Prices will go up next year)

Access to the recorded 2020 NGT LIVE Talks after the event (So if you aren't available on December 10-11, you can still get access to all presentations from day 1 and day 2 afterward)
… AND for all these benefits included, a premium ticket is still ONLY $39! It's almost a no brainer!
VETERANS, NGT STUDENTS, AND ALUMNI
As a company co-founded by veterans and built around helping veterans transition into the civilian sector through IT, we have made registration for both days 1 and 2 free to all veterans. This special ticket is available on the Eventbrite registration page and can be secured with verification of your military id number.  NexGenT students and alumni also receive free access to both days 1 and 2 as well. Students and alumni can check their inbox for an email from NexGenT with the special link to purchase tickets. If you search and do not see this in your inbox, you can reach out to support@nexgent.com for registration assistance.
Mark Your Calendar 
We encourage you to join in as one of the first 2500 registrants and reserve your free spot now before spaces run out!   Join us and come together with like-minded people and industry leaders who are ready to guide and launch you into the career of your dreams–made real. We can't wait to see you.
REGISTER NOW