New: Real-World & Skills-Based IT Certifications
So you want to know what IT certification you should be spending your valuable time on. Let's lay out some reasons why you want to get certified in the first place.
To make yourself competitive so you can finally receive that promotion from your helpdesk role and level up the ranks of IT.
Validation of skills a potential employer defines in a job description, like "Dynamic Routing Protocols, EIGRP and OSPF".
Cisco Partner Professional Services certification requirements – Some partners rely on engineers to earn specific certifications (i.e. CCNA) but also require specialist certifications, like Cisco IOS WAN Specialist or Enterprise Wireless Specialist.
Download our FREE GUIDE For Preparing For Technical Interviews
In the world of IT certifications, many of them are geared towards a trivial understanding of the topics listed on the blueprints. I mean, how many different ways can you answer a question about EIGRP or OSPF? Well, the truth is there's plenty of ways if you know them well enough.
But what does it prove to an employer finding a candidate that has CCNA, CCNP, VCP, MCP, NSE4, CCIE, JNCIE, MCSE?
It says a person has spent a lot of time learning about different technologies on different vendors' equipment. If you were to see my alphabet soup it would like this, CCNA R&S, CCNA Security, CCNA Wireless, CCNP R&S, CCNP SP, CCIE, VCP, NSE1, NSE2, FSNA, FSNP .
And quite frankly, to anyone fresh to IT, no one blames you for asking where the heck to start and wondering which bowl of soup looks the most appetizing to an employer. Don't stress too heavily on which IT certification you should start with or which one you should get next, that's why we're here to help.
Let's lay out some facts about the certifications themselves and how they matter. We'll start with perhaps the most common.
Cisco CCNA (200-301)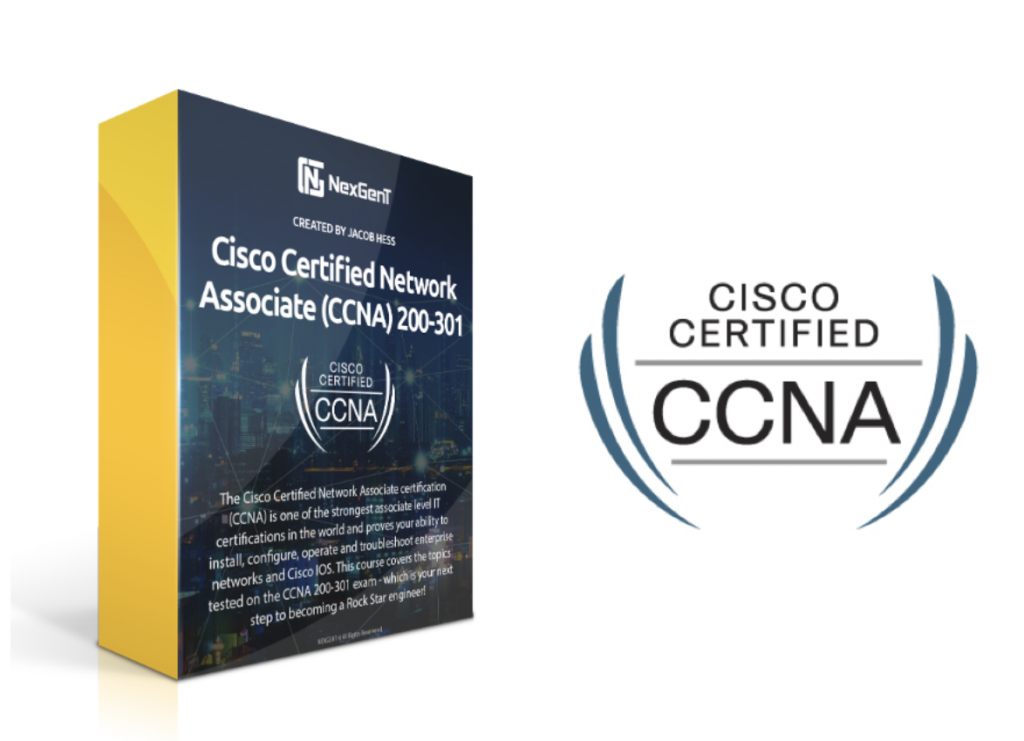 CCNA is a 100 question, question/answer exam. It's mostly multiple choice answers to a single question. Clicking on radio buttons or checking boxes to answer the questions. It requires you to be knowledgeable about the topics listed on the blueprint, even the ones that aren't explicitly defined, like EIGRP, VTP, LISP and VXLAN, still better know them! For additional details on the CCNA 200-301 and the inside scoop on the exam, watch this video. The issue with the CCNA, is it isn't an exam that looks for the candidate to be "strong" in implementing Cisco IOS networks but mainly knowledgeable on the technologies.
So what does that say about the CCNA, is it worth it?
YES!!!! Even though it doesn't test you on configuring the topics listed, if you're not testing the topics out on the CLI, then you're not doing enough to earn the value that the CCNA grants you when you pass.
The key to earning your CCNA is to find a training course by a reliable provider and spending about 45-90 days (depending on your commitment) learning concepts before scheduling an exam. We'll revisit this again in a minute.
Cisco CCNP (ENCOR 350-401, ENARSI 300-410)
CCNP is 2 exams, the Core exam and 1 concentration. The Core exam is a 100 question, question/answer exam. Like the CCNA, it's mostly multiple choice answers to a single question. The ENCOR exam is the CCIE Written exam replacement, which is why it's 100 questions, it is the equivalent of CCNP Route and Switch from the previous version of the exams. But you're not required to configure anything.

The ENARSI exam is 90 minutes long and is the replacement for the CCNP TSHOOT exam from the previous version of the exam. This exam does require you to be interactive, resolve issues, answer questions, drag and drop, etc. This is the first exam you have to know how to configure something.
What Are The FSNA and FSNP?
If you're new to networking, I could assume you skipped past my alphabet soup of certifications I listed earlier instead of reading each letter. But if you're familiar with these certs, and acknowledged each one, you may have wondered what the FSNA & FSNP are? 
Let's break down the FSNA and FSNP, NexGenT's awards portfolios so far, with more to come in the future! 
Unlike the CCNA and CCNP exams, these exams are very lab focused, so focused in fact that we don't call them exams, we call them SQCs!
Wait, what? SQC is Skills Qualification Check, in other words, if you don't know how to configure something that you are being tasked with configuring based on the requirements of the SQC, you'll lose points for not implementing it.
"Hey! This sounds an awful lot like the CCIE Lab exam." It is in fact, except we're not testing any really crazy routing designs to make your head spin.
The goal of the SQC for the FSNA and FSNP isn't to test your trivia knowledge on a topic, it's to see if you can get a network built, tested and verified working. At the end of the day, you need to be able to deliver technical solutions to business challenges. The FSNA and FSNP are real-world skills awards.
Now that you have a general idea of the certifications, let's discuss how they are delivered. Guess what, they aren't full of trivia information, you get enough of that in CCNA and CCNP.
These awards are project focused, meaning we present you with a project that you will be tasked with delivering to a fictitious company. 
"Hey! This sounds like what I do in the real world!" Exactly! Welcome to real-world training!
There are currently 3 projects, with more in the pipeline to come. The first one is the Full Stack Networking Project or FSN Project, the second is the Cisco ASA SSL VPN Project and the third is the Colocation Data Center Project.

The SQCs are the big differences between FSNA/FSNP and CCNA/CCNP. They are Skills checks, meaning you are required to meet a certain standard in order to pass. The FSNA is the Full Stack Network Associate, which is geared towards the entry level understanding of IP enabled networks. The FSNP is the Full Stack Network Professional, which is geared towards more advanced networking at a larger scale for more real world applications.
Both the FSNA and FSNP are hands-on, lab-based tests. The candidate is required to configure a network to a certain set of requirements to meet the needs of the business. The reason why this is a huge differentiator is that you have to know how to get things working AND know what the technologies are.
The Full Stack Network Engineer (FSNE) program is comprised of two stages in which the FSNA and FSNP are awarded.
FSNE Basic Training (FSNA + CCNA)
In FSNE Basic training you learn how networking works starting with the Full Stack Network Associate course. You'll earn the FSNA certification through doing your Skills Qualification Check (SCQ) in the FSNA Lab and also taking the FSNA Written Exam. During the last half of FSNE Basic Training you'll learn additional topics and labs related to the CCNA and then study for and knock out that exam.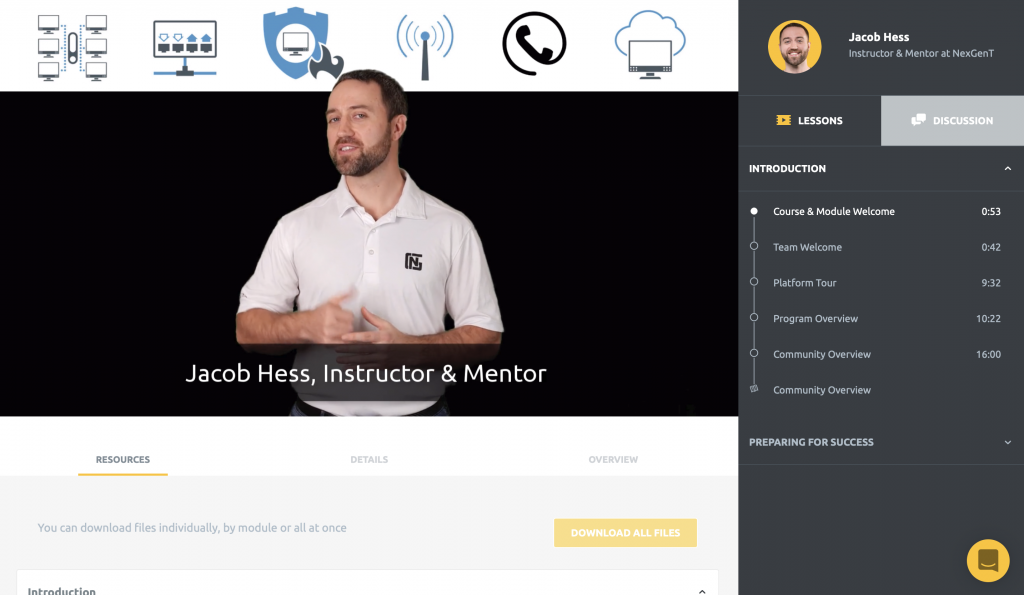 FSNE Advanced Training (FSNP)
You'll then be promoted to Advanced Training. You'll go through the 3 projects and the Advanced Training FSNP SQC. (You want real-world experience? We're giving you the closest thing possible!) The SQC in Advanced Training is much more involved and is broken down into three sections. The goal is to fully test a candidate in all aspects of the network engineering role that they might see.
The first section is troubleshooting, you'll have 5 tickets to resolve as if you were a consultant or engineer working for an organization where something is not working.
The second section is the deployment, where you'll be tasked with rolling out a new branch office, router/switch/access point/PCs/phone and server and get it all working from scratch.
The third section is configuration, where you'll be given a list of tasks to complete. Some of these tasks were started by someone else who was reassigned to another project and other tasks are set up from scratch in the existing network.
After successful completion of the above tasks, the candidate is granted the FSNP. By the time every student is done with Basic and Advanced Training, they will have earned the FSNA, CCNA, and FSNP. They will be job ready and well versed in networking. This will set them up well for follow on training like CCNP or other tracks they might want to dive into.
Although these certifications may be new to the industry, imagine the interview where you sit down in an employers office and explain how you've worked on three projects connecting an organization's sites together! By taking advantage of the program that these projects were built from, you'll have much more experience building networks than their helpdesk guy, Tom, who's been waiting to get internally promoted for the last 4 years.
If you want to make yourself the most competitive candidate during your job hunt, you can utilize our real-word skills certifications and training programs to help you truly standout and become job-ready.
#LevelUp